Article ES2

Kids and Adults love to learn to ski and snowboard on a "Endless Revolving Slope".
For many children the first day on the slopes means cold noses, putting up with bulky clothes and crowded into a ski class with several other runny nose kids. Once on the slopes the child is distracted and intimidated by skiers and snowboarders shushing by making it difficult for them to learn a new sport.

There is a way that children can avoid the first day of tears and frustration and enjoy a wonderful family ski and snowboard vacation.
| | |
| --- | --- |
| | Children love the thrill of learning and developing the proper skills while gliding and carving safely on the revolving carpet |
Children and parents alike can learn to ski and snowboard in an indoor environment safely and quickly before they think of packing for their trip. It's at a special place that requires no snow chains or mountain driving to get to and if you live in Sacramento, or Encinitas it is just a few minutes away. SnoZone is located in the heart of Sacramento area, and Adventure Ski and Snowboard School in Encinitas California are ski and snowboard schools that teach on a revolving carpet deck. The students are actually skiing or snowboarding on real skis and snowboards.

The advantage to this head start program are many. Students can accomplish in one lesson what they normally would in an entire day on the mountain without waiting in lift lines, or unnecessary stops or from falls.

Children learn the basics of speed control, steering and how to stop. Some parents think that their child is the next gold medal contender because they fearlessly speed down the mountain side but is the child really developing their skills properly? And more important are they safe? The answer to both is usually "no". Without proper knowledge of the fundamentals, they can be a real hazard to themselves and to others.

The revolving carpet ski and snowboard deck works on perfecting the skier's or boarder's balance, the most critical element to improving ones skiing. Mirrors placed at the front of the deck provides instant feedback on body positions as you ski or board across the deck carving back and forth. Because it's indoors,' there is little to no distraction and no need for cumbersome clothing; it's always spring skiing condition.

On the Endless Revolving Slope the child's first skiing or boarding experience is an enjoyable one developing confidence that translate directly to the mountain slopes. The revolving carpet school instructs children ages 4 and up. All needed equipment is provided for and the price is comparable to a cost of a lift ticket. Instead of taking the chance of driving to the mountain to discover your child is not enjoying themselves guarantee your trip by first developing their skills and confidence on the "Endless Revolving Slope" and they will be looking forward to transitioning onto the snow. Put your child at the head of their snow ski or board class and have a memorable snow vacation.

For the experienced skier or boarder, the revolving carpet can accelerate your improvement as well as tone up and prepare you for the rigors of skiing and snowboarding. This year when you arrive at the mountain, your child will already have all the skills he or she needs to enjoy a great first day and you will be in top form eliminating the first day of cramps and soreness. So, have a great season of safe skiing or boarding on the mountain by first preparing for it on the "Endless Revolving Slope".
www.endlesslope.com
Based from an article in the San Diego Family Press by Dina Jo Madruga "Kids Learn on "Magic Carpet" Before Hitting the Slopes!, October, 1991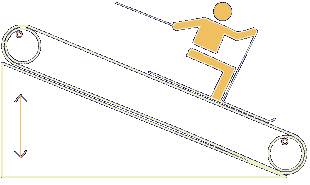 Back to Article's Table of Content