Article SM1 Life's moguls bumped a workaholic to focus on training skiers
Article SM2 Skiing innovator shares his mastery with students
Article SM3 Snow Teacher without Snow
Louie the Xtreme Chimp and the Endless Slope
Article L1. Boarding gone ape! Local instructor trains film chimp
Article L2. Boarding gone ape! Part 2: On The Snow!
Ski Articles
Article SK1. Ski better by finding ski 'sweet spot
Article SK2. Avoiding injuries and safe skiing on shaped skis
Article SK3. Skierís Guide to Pole Knowledge
Article SK4. Ski Tips For Working Different Terrains
Snowboard Articles
Article SB1. Avoiding Face Plants!
Article SB2. Boarding Safely
Article SB3. Snowboard Equipment guide
Ski / Snowboard General Articles
Children
Article GC1. Should my Child Ski or Board?
Preparation, Exercise and Condition
Article GX1. 4 Simple Exercises
Article GX2. Get a grip! e3 puts power into the palm of your hand
Article GX3 Keeping our Balance
Article GX4. Developing Proper Ski and Snowboard Balance
Article GX5. Three Things That Can Improve The Way You Ride
Article GX6. Fundamentals Key to Skiing and Riding
Article GX7 Preparing for a fun first day
Article GX8 Conditioning with Circuit Weight Training
Article GX9 Hip posture a key to better skiing and snowboarding
Article GX11 Pole Walking to Prepare for Skiing & Snowboarding
Equipment / Accessories
Article GE1. Wax the Board
Article GE2. Ski Swap Guide
Article GE3 Snow Accessories (Glasses, Gloves, etc...)
Article GE4 Dress for the snow
Article GE5 Helmets
Events
Article Evt1. Icer Air
Article Evt2. 08-09 Events
Article Evt3. Children of Winter Review
Urban Skiing & Snowboarding
Article UB1. Skiing and Snowboarding on a Dry Slope
Article UB2. Skiing in summer? New Technology
Article UB3. History Urban Artificial Snow Parks
Article UB4 NXS holds secret to urban ski & boarding
Movie Reviews
Surfing Articles
Article Srf1. Beginner's Guide to Surfing
Article Srf2. Wet Suit and Accessories Guide
Article Srf3. Surf board Guide for Beginners
---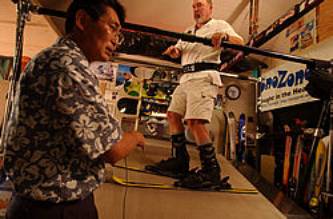 Sacramento Bee/Josť Luis Villegas
Sam Morishima, foreground, owner of SnoZone Ski and Snowboard
School in Sacramento, works with King Smith on a ski deck, a
carpet-covered device that operates like a treadmill. The
machine is useful for both skiing practice and injury
rehabilitation.