Our Philosophy
Article ES1
Simulator gives enthusiasts an 'endless' practice slope
By Alicia Roca -- Bee Staff Writer
Published Thursday, July 4, 2002 Sacramento Bee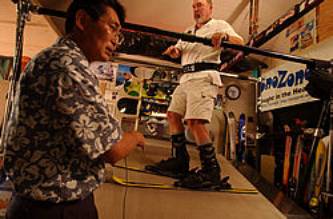 Sacramento Bee/José Luis Villegas
Sam Morishima, foreground, owner of SnoZone Ski and Snowboard
School in Sacramento, works with King Smith on a ski deck, a
carpet-covered device that operates like a treadmill. The
machine is useful for both skiing practice and injury
rehabilitation.
It's 90 degrees. Sweat trickles into King Smith's beard as he dons a white polo shirt with khaki shorts. But his feet are in ski boots. "It's not about power. It's about finesse," said Smith, as he glided down a "mountain" of rolling carpet. "I'm better than I was 20 years ago." Smith, 60, is a student at SnoZone Ski and Snowboard School in the Curtis Park neighborhood of Sacramento.
The school was established in 2000 by Sam Morishima in his garage. It features a ski deck, a conveyor-belt-like contraption that simulates an "endless slope" and is designed to teach skiing and snowboarding.
"In half an hour you can do a whole day's worth of skiing," said Morishima, an ex-scientist. This is because the student is in constant motion and needn't worry about climbing up the mountain once down, he said. In addition, the ski simulator is better for learning than snow because all variables are constant, he said.
"It's like being in a laboratory. Everything is consistent," said Morishima.
Morishima, 49, began skiing when he was 10. He became a ski instructor during college and upon graduating from Santa Clara University worked as a chemist. Over the next 20 years myriad science jobs demanded constant travel. "I'd wake up in a hotel and didn't even know what country I was in," said Morishima. Exhausted, he made a list of loves and at the top was skiing. He remembered a day in 1990 when he drove by a parking lot in San Diego and saw a ski deck. Morishima quit his job and began working for Virtual Snow in Orangevale, a ski school that uses ski decks. A year later, he built his own ski simulator and opened SnoZone, charging back then $50 per half hour long lesson. Now he plans to open two more SnoZone Schools later this year, one in San Francisco and the other in San Jose.
Bob Salerno owns Virtual Snow, the ski deck school where Morishima got his start. Salerno, a six-time world skiing champion, began training on a ski deck in 1974 and has a total of nine ski schools nationwide.
"About six weeks after I won the world championship, I got on the ski machine and it kicked my butt," said Salerno, adding that in the 1970s ski decks didn't have harnesses or safety bars.
He agrees that the ski deck is more challenging than actual skiing because of increased friction and lack of forward momentum.
"Snow is forgiving. Carpet exaggerates your flaws," said Salerno, whose clients include Olympians and actors. He likens it to a treadmill on an incline.
The ski deck is suitable for teaching the basics of snowboarding as well

as skiing, with the added benefit that the surface is consistent.

Sacramento Bee/José Luis Villegas
While Salerno says that the snow deck's increased challenge "makes it easier once you get to the mountain," both he and Morishima stress that it is not a substitute for snow. Beginners who have used a ski deck still should take a class once they get to the mountains, he said.
"It builds on itself. It's like playing a musical instrument. You practice and practice," said Morishima, comparing it to an actress who memorizes her lines only to forget them at showtime. "If you take a lesson up there, it paces you."
But for Smith, the ski deck provided more than preparation for the mountain. Two years ago he couldn't walk after back surgery and was "taking Vicodin like candy." Now, as he skis on one leg, he attributes the progress to ski decks. "I was ready to give up skiing," said Smith, who had been skiing for 25 years before his surgery.
Smith's case is not extraordinary, according to Brian Chavarin, director of sports medicine at the Center for Athletic Medicine at the University of Southern California University Hospital. At the center, physical therapists work with injured skiers and snowboarders using ski simulators.
"The ideal way of getting someone back to peak performance is mimicking their sport," said Chavarin. "It allows you to work in a safe, contained environment."
At the center, ski decks are used alongside treadmills and bicycles to strengthen balance and re-educate muscles, not only for injured skiers and snowboarders, but also for those who have knee or lower back injuries.
Still, the majority of Morishima's clients are skiers or snowboarders hoping to refine their skills. "As a human being you want to move, and you want to move gracefully," said Morishima. "It's almost like dancing."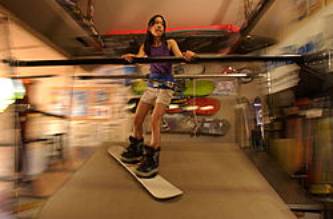 Sacramento Bee/José Luis Villegas
Sondra Morishima, 13, daughter of SnoZone Ski and Snowboard School
owner Sam Morishima, learned how to snowboard in the family garage,
in the Curtis Park neighborhood of Sacramento.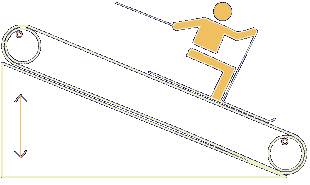 Back to Article's Table of Content