Snowboard Class

:
a documentary of our snowboard sessions by Jim & Emily
The Training Area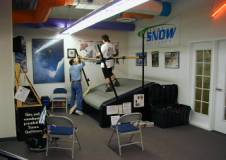 It's the third training session for Emily and Jim, and we are very comfortable with the setup.
Step In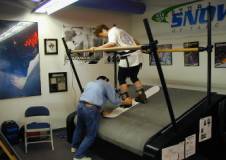 Our instructor, Sam, is really great. He is very patient and supportive, even when we occasionally have a little trouble with some of the techniques. At right, Sam assists Emily as she steps into the front binding. Then into the rear one. We are using the Step-in system, which makes it easy to click in. The small orange knob to the left of Emily's boot is to lock the binding in the closed position.
Ready for Training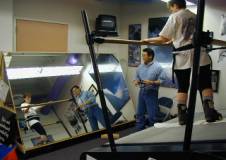 Emily begins with some review and warm up moves. She starts out doing the wind shield wipe sliding her rear foot one direction and then the other while checking her Stance in the mirror.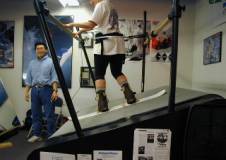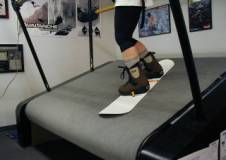 Emily does some turns. At right, she is turning to her left. Note the board is pointed to the left and she is on the left edge of the board. It may seem like she is going back-first as she turns, but both Emily and Jim find this turn the easiest. Note that her left foot is forward, which is the most common, or normal, riding position. Next, she will do turns with her right foot forward, a stance called "fakey." Then it's time to try to go straight a more difficult task, so Emily has to concentrate on Sam's message.
Jim's Turn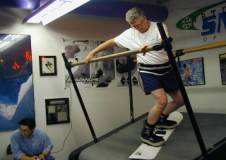 Jim goes through the same warm up routine and then practices turning left and right, first in normal stance, and then in fakey stance, as at right. At this stage of training, both Jim and Emily are less comfortable with a fakey left turn or a normal stance right turn, than with the opposites.
Jim is having some trouble going straight so Sam gives him an exercise to help focus on the technique. It is still hard. Who would imagine that it's necessary to put a little extra weight on the front toe.. Sam assures us that it will become more natural within another lesson or two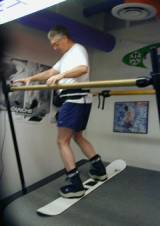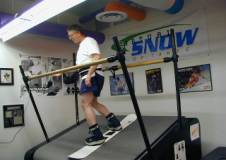 What's Next?
We hope to be ready for "real snow," not a moving carpet, after about two more training sessions, perhaps as early as late March. We will probably need additional sessions after that. Overall, the training will make it much easier for us to enjoy ourselves and avoid a lot of falls when we finally do go to the Tahoe resorts. Meanwhile, we are comparing the resort attributes.
Our Instructor
We feel real lucky to have Sam for all our training. Sam tries to help us avoid the painfull first start on snow and the risk of getting discouraged. As Sam pointed out, it is harder to initially learn to snowboard than it is to learn to ski. If we can avoid the falls and frustration, then our first outing will be much better.
Sam is available in the greater Sacramento area at 916-736-0432, or by e-mail at skimore@endlesslope.com or at the www.endlesslope.com web site.