ROAM Robotics Ski leg Exoskeleton
Sam (blue helmet & black ski pants) of SnoZone Endless Slope ski and snowboard school demostrates ROAM Robotic ski leg exoskeleton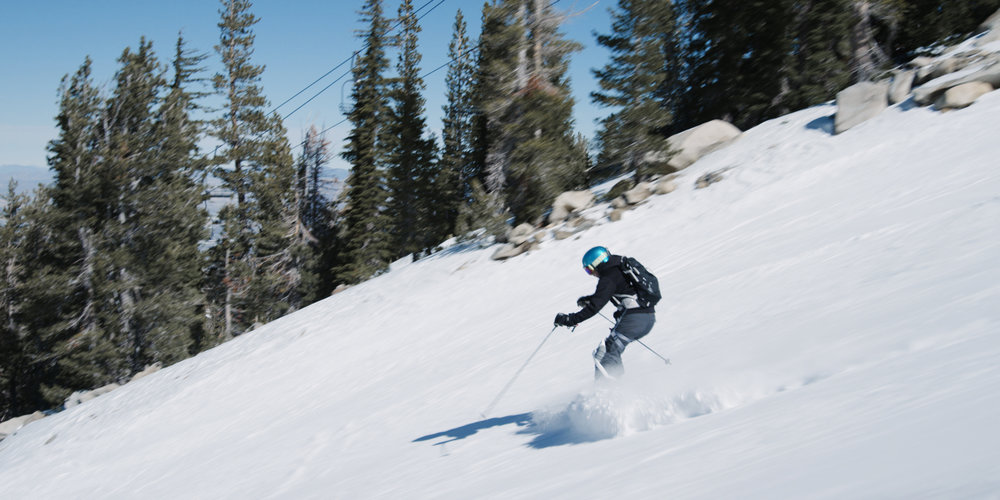 click picture for video link
Endless Slope Deck appears on a commercial for Turbo Tax
Once again our med size Endless Slope was converted for a commercial this time from a ski slope to an indoor dog walking treadmill and shown on TV during 2016 Superbowl football game.
SnoZone is back where it all began: Curtis Park
October 2014 SnoZone Endless Slope ski and snowboard school re-opened back where it started from in Curtis Park. Sam Morishima is happy to be back. Now my commute is only 15 steps away. Plans to renovate the original building is planned for summer of 2017.
Endless Slope Deck have appeared on TV commercial for Asics
In 2013 our med size Endless Slope deck was converted from a ski slope to an "Urban Soccer Treadmill" for a commercial on Asics Lethal Tigreor 5 soccer shoe. what they say about the commerciakl; "This right here is one of the most inventive pieces of footwear advertising I have seen in a while – from an unexpected company! Asics has continually pushed their HG10mm technology when talking about their boots, and it has gotten a little mundane. But by switching to a different strategy, and the "Urban Treadmill", the boots already look a little more like soccer boots and not a science experiment. " https://youtu.be/vaglqs6wIvI
SnoZone re-locates to 4147 Northgate Blvd, Sacramento 95834
February 1, 2011 SnoZone Endless Slope moved from it's Mighty Kong Cafe/Muffin location on 3701 Stockton Blvd, Sacramento location into the more spacious G2 golf center. Though we will miss the great taste of the muffins, coffee and wonderful meals we are now in a beautiful sports center.
Students can now enjoy the surrounding of fitness center and a indoor golf facility. The G2 golf facility is own by a former student Ms Jenni Martin who loved her lessons on the Endless Slope and mentioned that since taking the lessons she not only did it make her a confident and expert skier but it also helped further fine tune her golf ability. She believed that the combination on Skiing/Snowboarding and golf is perfect in many aspects from improving abilities in both sports as well as matching the resorts that have both snow sports and golf. The new school location is wonderful and the students just love the sporting atmosphere.
Ski & Snowboard Dazzle Show in LA and Sacramento for 2010
SnoZone Endless Slope is planning to be at both the Sacramento (Nov 20 & 21) and LA (Dec 2 to 5) Ski and Snowboard Dazzle show this season 2010. So be there and stop by our booth and watch us dazzle the crowd with skiing and snowboarding exhibitions and instructions. Go to http://www.SkiDazzle.com for further details and don't miss the show and all the great ski and snowbaord gear sales. Also for shots of our booth at last years Ski & Snowboard Dazzle show go to our Ski Dazzle Photo Gallery page SnoZone Endless Slope photos at Ski Dazzle 2009.
Don't forget to keep up to date with Ski Dazzle and all there events and specials at http://www.SkiDazzle.com
Two locations to train on Endless Slope: Sacramento and San Francisco
SnoZone Endless Slope in Sacramento is once again working with Adventurous Sports in San Francisco at their new location at 650 Florida Str. Sam Morishima plans to teach at the new Adventurous location once a week during the winter. Lessons on the other days of the week will be taught by Adventurous instructors. So once again there are two locations (Sacramento or San Francisco) where you can conveniently learn and improve your skiing and snowboarding without the hassles of traveling to the mountains. See our contact page for further details.
Private On-the-Snow Lessons
SnoZone Endless Slope students get a 20% off on the Private On-the-Snow lessons with Sam Morishima. All day on the slope with Sam integrates the student's lessons learned on the Endless Slope to various terrain and situations found on the mountain. Sam makes sure that lessons learned on the Endless Slope is not forgotten on the snow. One day on-the-snow lesson can accelerate the incorporation of muscle memory of the skills being taught on the Endless Slope advancing the students performance significantly. Pricing structure for on-the-snow lesson(s) can be found on the web page SnoZone Pricing
Wax Clinic offered by SnoZone
Waxing your skis or board is really easy and fun to do. A good waxing on your bases can make your skiing or riding more enjoyable, safer and more efficient to ride. Frequent waxing can prolong the life of your equipment. There are many advantages for waxing your own skis or snowboard from cost saving to not depending on others to prepare your ski or board. Our wax clinics can weave you through the maze of waxing information and teach you what is important and practical for you. You actually wax your own skis or snowboard in the clinic. Our clinics can be one on one or in groups. For more information click here on Wax Clinic.
Ski Dazzle 2009


SnoZone Endless Slope was a key attraction at the Los Angeles and Sacramento Ski Dazzle ski and snowboard show. Providing demonstrations on skiing, snowboarding and snow skating as well as attendee participation to ski and snowboard. Visit our Ski Dazzle Photo Gallery page for pictures of demonstrators and participants. SnoZone Endless Slope photos at Ski Dazzle 2009.
Don't forget to keep up to date with Ski Dazzle and all there events at http://www.SkiDazzle.com on the Ski Dazzle site click on the LA Ski Dazzle Day 1 Video and toward the end of the video you can see some Endless Slope Snowboarding.
Don't lose your ski and snowboard skills during the Summer.

SnoZone Endless Slope Ski and Snowboard School allows you to train and develop your skiing and snowboarding throughout the year in Sacramento. No need for snow or the freezing cold or putting on chains to reach our facility in the heart of Sacramento. You ski and snowboard on actual skis and snowboard on a endless revolving specialized carpeted surface. It will not only help you keep in ski and snowboard shape but train you to become a riding athlete. Make skiing and snowboarding a natural, effortless and high performance ride. A session on the Endless Slope is equal to a day on the slopes. You will enjoy skiing and snowboarding while you learn and train but most important become a better riding athlete at any age.
Videos of SnoZone Endless Slope Ski & Snowboard School
SnoZone: Best of the City
http://www.inmycommunity.com/imc_joomla/index.php?option=com_sobi2&sobi2Task=sobi2Details&sobi2Id=23&Itemid=60
Ready for Skiing in Sacramento's Curtis Park
http://www.youtube.com/watch?v=WZ_OuvN3Zxo
SnoZone Ski Tip of the Day #1
http://www.youtube.com/watch?v=5PGfbbsUmSM
Rail without snow: SnoZone
http://www.youtube.com/watch?v=Nu5uWck-i-c
Como aprender a esquiar en el gimnasio
http://www.youtube.com/watch?v=QUQgtRD7tk8&feature=related
SnoZone re-locates to 3701 Stockton Blvd, Sacramento
November 2008 SnoZone moved from it's humble setting in a garage in Curtis Park, Sacramento to 3701 Stockton Blvd, Sacramento in the Mighty Kong Cafe Bldg
This just goes to show that you can practically ski and snowboard just about anywhere including in a cafe. The Mighty Kong Cafe building is own by a former student who loved learning on the Endless Slope that he wanted the school to be located in his new building. The new school location is wonderful and the students just love the atmosphere being able to get a cp of coffee and muffin as they wait for there lesson. The school is temporary in the Cafe portion of the building but will move into its own private setting on the grounds of the Mighty Kong Cafe sometime in April 2010 as soon as the site is renovated, but for now the students enjoy the cafe setting as they ski and snowboard.
Salute American Heroes Walt Disney World Florida 2008




SnoZone Endless Slope under Mark Wellman's No Limits Adventure as we worked with the disabled veterans instructing skiing and snowboarding on the Endless Slope at Walt Disney World in Orlando Florida. Article on Disable Vets skiing and snowboarding
Articles about SnoZone Endless Slope
Click: Articles
Events that starts off 2008-2009 Season
ICER air, Snowbomb Wine and Beer Festival and Warren Miller Film, what better way can you think of to get into the mood for Skiing and Snowboarding.
Read about them at our website page Articles Events 08-09
Endless Slope's past location in San Francisco
From 2002 until 2005 our 2nd Endless Slope school was located in Pier 38 in San Francisco, right on the bay near the Giants baseball stadium.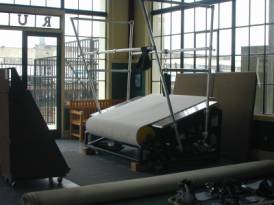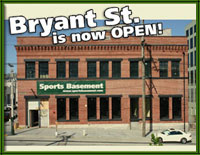 From 2007 - 2009 we re-located our 2nd Endless Slope School on the Sports Basement's first floor next to the ski and snowboard Rental department at 1590 Bryant St. San Francisco, CA 94103 (415) 575-3000
Comment from customer: Stacey C. 01/14/2008
Did you notice the snowboarding lessons they have in the back corner? I'd never seen before. It was awesome. You hold onto a bar on a carpeted slope in your board and boots and someone teaches you how to turn and do all this stuff.
Weekend Adventure with Brian Hickey KCRA 3: Ready for Skiing in Sacramento's Curtis Park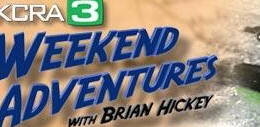 Skiers and snowboarders don't have to wait for the snow to sharpen skills. At Snozone Endless Slope School in Sacramento's Curtis Park, riders can practice and refine form and strengthen muscles on an indoor treadmill. The Adventure: As skiers and snowboarders eagerly await the arrival of winter, they don't have to wait for the snow to sharpen skills. At Snozone Endless Slope School in Sacramento's Curtis Park, riders can practice and refine form and strengthen muscles. Students practice on a treadmill that simulates snow. They carve, edge, pressure, steer and balance on skis or a snowboard, experiencing the same muscle workout as on the mountain while developing the skills needed to gracefully move on snow. Video of Brian Brian Hickey skiing on the Endless Slope or http://www.kcra.com/video/14614877/index.html
SnoZone Endless Slope at Annual Road to Recovery Conference and Tribute.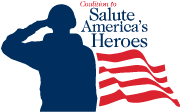 The five-day event, held at Walt Disney World in Orlando, Florida from in November or December, with more than 1,000 people in attendance, will be the nation's largest gathering of severely wounded troops ever. Endless Slope will be at the event providing opportunity for lessons on skiing and snowboarding using specially adapted equipments and expert instructors for the disabled. A big thanks to Darryl Noda of Giro for providing helmets protecting the skiers and boarders at the event.
Read More at Article: Disabled Vets and Article: Florida Today
2/08 Sam Morishima Snowboard Clinic at Buttermilk Mountain Resort in Ontario, Canada

Sam Morishima Snowboard Clinic February 8 -13 2008, introducing the Endless Slope Training Platform.
Buttermilk Mountain Resort owned by the Kaiser family is developing into a world-class ski resort. It is one of the premier environments in Ontario for instructing children and beginners. They have the largest Super-Pipe in the entire Mid-West of Canada and the United States. The Super-Pipe is almost 500 feet long and 85 feet wide with a 21-foot depth and a 22% grade. The entrance into the Super-Pipe drops 35 feet with a 45% grade and the Super-Pipe ends with two 10-foot jumps. The Super-Pipe is flanked with two 25-foot pedestals running the entire length on both sides.
Trip to Sierra Ski Resorts

Ride with Alpine Adventures. Deluxe video-equipped buses will take you right to the resort from locations throughout the Sacramento Valley region
Call (916) 737 SNOW for pricing and book your place today
Ski Doctor http://skidoctorrx.com
The Ski Doctor is Sacramento's premier full service ski shop offering top equipment and service. o serve the skiing community.
Land Park Ski and Sports Clinics. http://landparkski.com/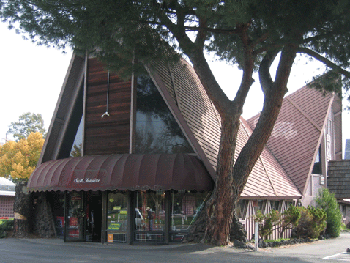 Boot Fitting Clinic
Learn to Ski & Board Trip
Ski Demo Day at Squaw
Call (916) 451-2800 for clinic and demo time
San Francisco's Annual Icer Air/Icer Air Village;
AT&T Park, 801 3rd St, San Francisco, Fr 1pm-9pm (The Village - in Parking Lot A area south of AT&T Park on opposite side of McCovey Cove between 3rd St & Terry Francois Blvd), Sa 10am-6pm (The Village), Sa 1pm-9pm (The Stadium) $10 Fr/$24 Sa/$30 Fri & Sat combo ticket general admission, Sa & combo Snowbomb tickets include FREE lift ticket to a Lake Tahoe ski resort. $1,000,000 ski/snowboard sale, Olympic & X Games skiers/snowboarders, bands. The Stadium - big air skiing/snowboarding, vert ramp, concert stage. The Village - freestyle motorcross, skate/BMX park, wakeboarding, music stage, beer garden, snow sports vendor booths. www.icerair.com 40,000 attendees expected. SnoZone Endless Slope will be next door to the ATT park at Pier 38. drop in and celebrate with us.
October: Annual Sac State Ski Swap;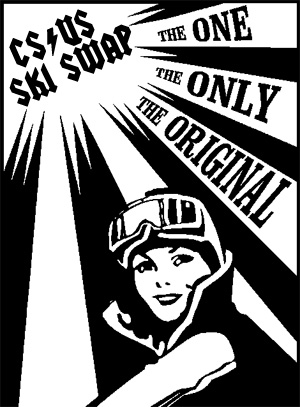 CSUS (California State University Sacramento) Ski and Snowboard Club holds their annual ski and snowboard swap at the Student Union Ballroom, 6000 J St., Sacramento, CA; in October if you missed this seasons swap be ready for next seasons www.sacstateskiswap.com or www.csus.edu/org/skiclub
For more on ski swaps and events that are happening in Northern California:
http://www.skibac.org/SkiShowsSwaps.htm
********************************
Esurance ICER AIR 2006 at AT&T Park in San Francisco
by Sam Morishima
For more photos see Photo Gallery 1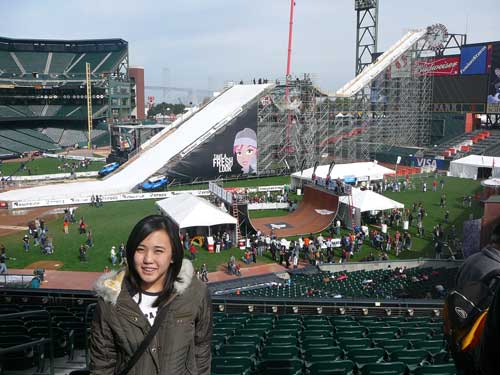 Over 25,000 spectators descended upon the ball park now converted for one day into a slopeside snow big air event stadium. Packed onto the field was a music stage surrounded by several large tent size booths and in the center a monstrous 100-foot-high big air jump ramp laden with 200 tons of manmade snow with a gapping 20 foot mouth that boarders and skiers had to clear. The structure could be seen from the Bay Bridge as it glowed in the night air before opening morning Saturday Nov 4. It towered up to the Stadium clock waiting for the athletes to mount it for a ride into another chapter of San Francisco's history.
The standings of the event went as follows: In the skier category TJ Schiller,took first with a awesome 1080 betting our Jon Olsson's switch 900. Steele Spence came in third with a 900. The remainder of the men's ski division finished in the following order: Cory Vanular, Josh Bibby, John Spriggs, Peter Olenick, Chris Benchetler, Pep Fujas, Sammy Carlson, Simon Dumont, Sean Field and Tim Durtschi. Regarding the snowboarding side, Travis Rice, took the title with little doubt with a corked backside 7. Andreas Wiig came in second performing a backside rodeo 900. Olympian Danny Kass hit a backside 900 placing him in third. Brent Meyer in fourth followed by Chas Guillemond, Andy Finch, Juuso Laivisto, Wyatt Caldwell, Louie Vito, Bjorn Leines, Tim Humphries and Corey Noble.
In the women's skiing Michelle Parker took the lead followed by Kaya Turski and Shiadasha Holmstead. In snowboarding, Jamie Anderson captured first followed by Laurie Currier in second and Bev Viggue in third.
I did get a chance to talk to Michelle Parker the evening before the event. Born in Truckee she is now 19 years old and had attended high school at North Tahoe and graduated early to ski. We talked about her very first, first place trophy won at Northstar at the age of 6. She mentioned that her Mom and brother also took home trophies that day but dad lost out. Her strategy for this event she said was just to do her best. A dynamic skier who can perform under pressure and simply cranks when it comes to aerials is just warming up. Keep an eye on her this season, she's going BIG!. Congratulations on the win!
The event did not go with out its incidences. With the mid day sun melting the snow created drag on the skis and boards such that it reek havoc on the the women's competition. Kaya Turski skier was carried off on a backboard stretcher after hitting a 540 with a landing that pulled her onto the slated walking platform running up the sides of the landing slope tripping her resulting in a body slide down the massive ribbed walkway. Let's hope that Kaya comes out of this ok so she can compete in this winter season. The 20 ft gap also swallowed Laurrie Currie snowboarder as she literally rolled right into the opening falling 30 ft below into the safety net.
With the cooling of the evening and newly made snow the evening men's event went smoothly with crowd pleasing aerials.
The whole day's event was unreal with live music from Jurassic 5, Ladytron and Chaingarden along with Wakeboarding, BMX and skate boarding exhibitions. Tony Hawk himself was there to display his vertical moves on the halfpipe. In Covey Cove wake boarding demos ruffled the waters as boats hurled the riders into the air. Jonny Moseley was on hand to host and emcee the event as wells as test the monstrous slope with his signature aerials. The stadium field was swamped with people moving to the sounds of the Jurassic 5 and the stands were filled with people as paper airplanes soared down from the different levels. With riders in the air above all else was a site to behold as nonstop action glued your attention all around you.
SnoZone Endless Slope ski and snowboard school conveniently located at Pier 38 near the AT&T stadium and was rocking with people on the Endless Slope and a Bar-B-Que party on the pier.
If you weren't there you missed the biggest winter opening event in the USA or perhaps in the world. But don't worry if all goes well there will be another next year. This is just too good to not have even a bigger and better event in 2007. It was certainly one "Giant" party at AT&T park!
You can find pics of the event ) at our Photo Gallery or at www.icerair.com.Sat Nov 4, 2006
There was snow on the ground and skiers and boarders in the air. Well then it must be San Francisco! On Thursday Sept. 29, 2005 a historical event occurred in San Francisco. It was SF's first Big Air ski and snowboard jumping competition on Fillmore street known as the Icer Air 2005 event. On top of the intersection of Fillmore and Broadway with the starting gate as a Cable car skiers and snowboarder competed for best hang time in the air.