Article Evt1 'Icer Air' back to S.F's AT&T Park on Oct. 18
Article Evt2 SF Fest, Icer Air kick off 2008-09 season
Article Evt3 'Children of Winter' passes torch to younger ski & board audience
'Icer Air' back to S.F's AT&T Park on Oct. 18
By Sam Morishima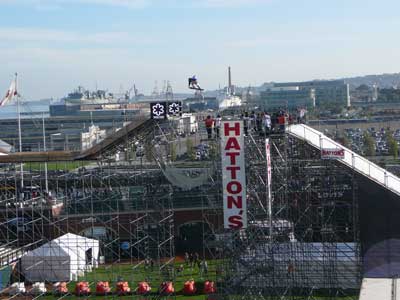 For the past three years in San Francisco there has been a new "rite of passage" for winter. On Oct. 18, Esurance's Icer Air 2008 will usher in the winter, taking place at McCovey Cove in San Francisco's AT&T Park.
It all started off Sept. 29, 2005 with snow being dropped on the hill of Fillmore Street in the Pacific Heights section of the fair city of S.F.
Snowballs tossed by a tank top and shorts-wearing crowd of approximately 15,000 flew through the air. With skiers and snowboarders being hurled out of a street car acting as the starting gate on top of Fillmore Street, the desire of everyone turned to thoughts of being on their own skis and boards shredding down the snow covered pavement.
The street car named "Desire" was on the minds of those who went for the prize that day. But there was one who took the opportunity to ride the street of San Francisco to capture the hearts of the judges. It was C.R. Johnson with a switch bio nine, opposite mute that took home the $6,000 and a new Jeep at the first Icer Air event on that beautifully clear and hot 80-degreee day.
People may not have expected a Spanish inquisition, but the crowd did expect the snowdrift that Icer Air created to show up the next year.
On Nov. 4, 2006 in AT&T Park, Icer Air teamed up with Esurance to build a 100-foot high ramp and dumped 200 tons of snow on it so that riders could literally fly 80- to 100-feet at heights of up to 20-feet. So on that epic historic day, J. Schiller took men's first with an outrageous 1080, with Jon Olsson knocking out a Switch 900 and taking second. Coming in third was Steele Spence. For the women, Michelle Parker took first, with Kaya Turski second and Shadiasha Holmstead third. The day created a blizzard snowfall of more than 25,000 in the park who all screamed for more not wanting the party to melt.
This avalanche of an event gained further momentum, creating a deafening roar on Nov. 3, 2007. Icer Air was once again in AT&T Park, and this time swallowed up MCovey Cove with exhibitors. The crowd dump was 32,000 as Jon Olson took the air jump to new heights with a Double Kangaroo Back Flip followed by Travis Rice's Double Cork 10.
This year's rites of winter begins on Saturday, Oct. 18, from 12 p.m. to 8 p.m. at McCovey Cove's Lot A, adjacent to AT&T Park on the San Francisco Embarcadero waterfront. The massive snow bank will grow to a multi-venue action sports, music, and lifestyle experience event, featuring some of the world's best skiers and snowboarders. This event will also feature freestyle motocross, skate, BMX, and wakeboard, with headliner music acts, interactive exhibits and a beer garden. I myself cannot think of anything better for the rites of passage to winter in the City by the Bay. I hope you will join me there at Icer Air 2008 to rush in the season that allows skiers, snowboarders, cross country, telemarkers, snow bikers, snow skaters, snowmobilers, snowshoers, snow campers, ice-fisher persons and anyone else who loves the snow season to rejoice in the coming of winter.
With new additional charm for San Francisco's already world impressive chain of annual events is the new symbolic talisman for an awesome start to winter that makes skiers and boarders religiously pray for snow. Icer Air is the good omen that sets the mood that the chill of winter is about to burst forth on the Sierra -- any respectable groundhog needs to begin to dig deeper.
For more info on Icer Air, visit www.icerair.com. Sam Morishima is a Contributing Editor for Sierra Ski News and the Director of the SnoZone Endless Slope Ski & Snowboard School in Sacramento. For information, visit www.endlesslope.com.
SF Fest, Icer Air kick off 2008-09 season
By Sam Morishima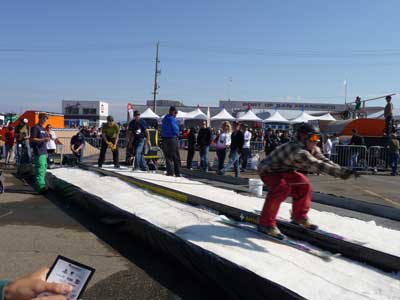 With clear blue skies on a warm Saturday (Oct. 18) in San Francisco's McCovey Cove, Icer Air literally catapulted the start of this winter season with some of the top freestyle skiers and snowboarders.
This year they forwent the big ramp structure of 2007 and instead built a 20-foot kicker and catapulted the riders into the air.
The catapult hurtled the skiers and boarders at a speed of 60 miles per hour up the huge kicker to engage them into massive aerials.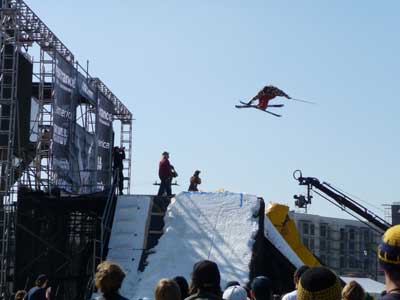 If that wasn't a big enough kickoff for the 2008-09 season, the following week (Nov. 1-2), SnowBomb threw a Ski, Wine, Board and Brew Festival at the Fort Mason Center's Festival Pavillion.
With an outstanding number of wineries and breweries mixed with winter gear sales, Tahoe job fair, resort expo and rail jam there was no lack of having fun.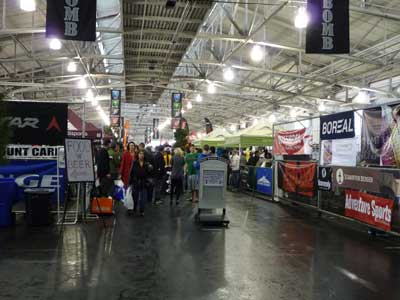 It was an ideal start to what is bound to be another great ski and board season.
'Children of Winter' passes torch to younger ski & board audience
By Sam Morishima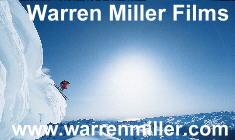 Coming out of Warren Miller's latest movie, Children of Winter, I felt mixed feelings as I saw and heard the different responses from the various audience members. What came to mind was part of the lyrics of Ricky Nelson's song "Garden Party." "When I got to the garden party, they all knew my name No one recognized me, I didn't look the same."
For many of the people who know the name of Warren Miller, the movie, Children of Winter had a different look or feel not like past Miller movies.
For one, it lacked the familiar ring of Warren Miller's wonderful voice, humor and enthusiasm.
This definitely rang with the older crowd who remember when Miller accompanied the film to every theater, sitting on stage...or to the side... in a folding chair, and adding to the script with antidotes and humorous dialog with a devotion of love and genuine excitement in his voice.
To my surprise, for Children of Winter, there was an air of disappointment for many in regards that there either wasn't enough action or not enough of the right kind.
The younger crowd of high school kids feeding on Teton Gravity Research videos wanted more of a barrage of non-stop extreme screen explosions that not only pushed the envelope of riding but actually break out with a cataclysmic earthquake of daredevil skiing and snowboarding.
The Children of Winter film is mixed with intense extreme moments and - what many would call fillers - such as in Okemo with a Jason Bigg cameo, with the band playing for maybe too much music time on the film. Then to top it off, one of the band members learning to snowboard.
Snowboarders in the crowd just got bored with the scene and wondered why they paid to see a person trying to snowboard.
However, I did hear from some skiers that they liked the end of the day scene when the beginner hit a nice air off the half-pipe lip making them think there was hope for them yet.
Now you've got skiers and you have snowboarders and then you can divide west coast boarders with east coast boarders and you can divide skiers into all kinds of shades of ski colors from groomers to all mountain to freestyle to newbie's and you know they are all looking to find themselves in the film.
I believe everybody found love in the film, but not a deep love, and the movie just could not accommodate the broad spectrum of audience.
The snowboard crowd were appeased when the snowboarders in the film such as Seth Wescott, Mark Landvik, Mads, JJ Thomas, Ross Powers and Josh Dirksen made the scene. But they also wished for other boarders that did not appear.
Overall what I heard from boarders was there was not enough boarding and what they saw was not to the standards they were expecting comparing with the likes of Jermey Jones and Travis Rice style of boarding.
As I surveyed the crowd you can spot groups or clusters of individuals who belong to ski and riding clubs.
They enjoyed the company of each other laughing or agonizing as scenes flash of skiers and snowboarder's follies encountering head on with trees or miss-calculated jumps or ineffective leaps and horrific wipe-outs. For most of these skiers and riders they wanted to seek more scenes of the beauty of groomed runs and fresh snow rather than jumps and hucks from rocky ledges or park terrains that only spell pain, injury and nonsense which the film had more of but not enough for the young extreme riders.
For the club member groups most of the extreme stuff was just a wonderful curiosity to enjoy for the moment.
But they would rather be hypnotized with the endless beauty of pristine groomed runs following a flawless Stein Erikson skier through endless slopes and majestic terrain.
I know of a few skiers who stop coming to these film events because of the lack of such scenes.
Gone are the days of monolithic crowds that are so homogenous that the film had the correct pulse to please almost all in attendance.
With the wide variety of skiers and boarders it is hard to find a happy medium.
But despite the inability to please every audience member, I still felt the awe in this film.
For me it is the outstanding technical skill of the people behind the scenes who bring out the picture in a big way with dramatic shots of raw mountain and human capability to ride the snow. The high definition footage, the shot angles and masterful light management and composition which takes the viewer's breath away. From the power of the panoramic view to the up-close face shot of champagne snow where you can almost feel the feather light dry snow roll pass the rider's cheeks brings one up front and personal to experiencing floating sensation right in your theater seat. It is clear to me that the production quality, camera angles, the editing, as well as the great soundtrack makes the riders more intense and alive.
One area that many agree was outstanding that brought home the realization of the double bladed edge of this sport was the Billy Poole memorial segment which demonstrated his remarkable skiing as well as his life. Billy had tragically passed away during the filming of a scene for Children of Winter in January in Utah's Cottonwood Canyon on a high-speed jump off a steep powdered slope into the rocks below. This was both touching and inspirational.
If there is one thing the film Children of Winter does tell us is that we are all children of winter even those who bask in the summer on beaches such as Gerry Lopez Hawaiian surfer extraordinaire. Gerry knows the best waves are in winter on the Island but he now spends his winters at Mt Bachelor riding what he calls the frozen waves.
A great thing about a Warren Miller event is that it is either a family tradition outing or a friends gathering of a great exciting night out, that officially starts the snow season.
As I was about to step out the door of the theater, I spied a young boy with his father holding one hand and his mother the other. The youngster's eyes were as big as apples and his face showed excitement and astonishment. This next-generation, future- inspiring Warren Miller fan may not know of the classic Warren Miller humor of days gone by as he narrated the film sitting at a small lamped table, but instead will remember Jonny Moseley's voice and his brand of heart and passion for the winter sports.
His excitement to ski and board is captured in the words of "I'm Jonny Moseley, "and winter is just around the corner."
As the chorus of "Garden Party" goes, "But it's all right now, I learned my lesson well. You see, ya can't please everyone, so ya got to please yourself."
As a side note, even though the "wow" factor has lessened for some audience members who ski or ride, just ask them if they want to perform on a Warren Miller movie and you will see them light up as if life itself was contained in the film. Warren Miller is still the traditional ski and snowboard movie to see each winter.
For a complete list of showings around the country, visit www.WarrenMiller.com.
Sam Morishima is a Contributing Editor for Sierra Ski News and the Director of the SnoZone Endless Slope Ski & Snowboard School in Sacramento. For information, visit www.endlesslope.com.