Article ES5
Rock climbing to ski training: Refine your outdoor skills at inside venues
By David Barton -- Bee Staff Writer
Published 2:15 am PST Thursday, January 20, 2005
Lots of snow means skiers and boarders are having fun and working on their skills at Sugar Bowl, Heavenly and Squaw. And in Curtis Park.
It's there, in that completely snow-free - indeed, hill-free - Sacramento neighborhood, that novices and experts alike can develop their ski legs on a rolling length of carpet that serves as a passable ski slope.
The contraption, run by ski instructor Sam Morishima out of his tiny garage, manages to emulate a snowy slope well enough for students to improve their skiing while 90 minutes away from the nearest decent snow.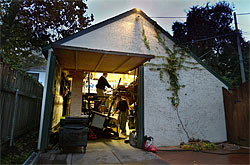 Sam Morishima runs his SnoZone Ski and Snowboard School out of his garage in Curtis Park, using a machine that simulates a snowy slope. Above, Morishima works with Jim Gholson on improving his form. Sacramento Bee / Bryan Patrick
Morishima's mechanical slope isn't the only indoor version of an essentially outdoor sport available to Sacramento area residents. For skiing, rock climbing or playing soccer, tennis or hockey, Sacramento has a number of sheltered venues for people who are, at least for the rainy season, willing to settle for being inside.
That can become necessary because, while Sacramento isn't hit by winter nearly as hard as much of the nation, rock climbing and mountain biking are among the sports that can become problematic when it gets wet or cold outside. Or, as in recent weeks, both.
Even in good weather, the best places to engage in those sports can be at least an hour's drive away.
So a number of entrepreneurs have tried indoor alternatives to outdoor sports. Many have come and gone over the past 10 years, notably indoor golf simulators. Some are doing well and others are still being planned.
Morishima's "endless slope" at his Curtis Park SnoZone Ski and Snowboard School is doing very well, according to its owner.
Using a remarkable contraption that gives him a terrific opportunity to observe his students, Morishima is able to correct their form as they're actually skiing.
"By seeing up close what the student is doing, I can help them correct it right away," says Morishima, who has trained professional skiers at his schools in Sacramento and San Francisco.
He even trained the chimp who performed snowboard stunts in the 2003 film "MXP: Most Xtreme Primate."
"It's much more difficult and inefficient to do it watching them ski by, or even skiing with them," he says. "Students learn much faster this way, at all levels."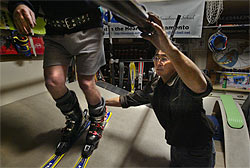 Sam Morishima can give ski and snowboard lessons indoors with the help of a slope simulator he has set up in his garage. Sacramento Bee/Bryan Patrick
If there's a sport even less likely than downhill skiing to be transferable indoors, it's mountain biking.
But that is the dream of Mike Upchurch, who says he is just weeks - and a rented building - away from opening Skills Factory (www.indoormtb.com), which he hopes will offer year round access to technical tracks that will help mountain bikers hone their skills.
"What we're looking to do is provide the obstacles at stations for various skills," he says. "It'll be like circuit training for cyclists."
Skills Factory also will feature about a mile of trails so flatlanders who don't have time for a trip to the foothills can get in a good workout.
But Skills Factory still exists only on paper, and judging from conversations with operators - and the number of disconnected phones - indoor sports venues are iffy commercial propositions.
While climbing walls tend to do well, at least a couple of indoor golf businesses have failed in the Sacramento area, and no one appears to be pursuing that option at the moment.
Tim Hovanscek is a local golf instructor who tried operating a golf simulator out of a friend's plumbing business in Roseville a couple of years ago. He lasted more than a year, but, as he says, "It was really hard to justify the cost of the machine ($50,000) - people weren't going to pay a $50 greens fee to play with it."
The problem, he says, is that the weather never gets too bad in the Sacramento area to drive enough duffers indoors.
"What I found in Sacramento," he says, "is that if it's a bad day, you just wait until tomorrow. You're not getting socked in with three months of snow. The weather will be better tomorrow."
By contrast, he says, "There are six (simulator) units up at the Hilton in Reno, and they're pretty busy. But that's in Reno."
Still, he says, the basic benefit of an indoor simulator, whether for golf or any other sport, is that it's a good teaching tool, and he hopes to get another one.
"The simulator is a godsend for teaching," he says. "People love to be able to see their swing (and) get a good analysis. Golfers want to be ready to go (play outdoors) in March, and you can get a real head start with the simulator."
Learning is still the focus of most indoor sports venues in Sacramento. Pools at local scuba dive shops such as Dolphin Scuba Diving Center and the new Sports Chalet in Sacramento's north area are short on coral reefs and sunken boats, but they will give students the skills needed to head for dive spots on the coast. Such places offer a chance to prepare athletes for the real deal.
And some sports have moved indoors permanently. Basketball and swimming have long been common indoor activities. There are also places to practice or to play in-line hockey, baseball (with batting cages and pitching "tunnels"), archery and soccer.
And there are some relatively new sports that have arisen at some indoor venues, one being "broomball," a form of ice hockey played with an air-filled ball and a plastic "broom" or paddle. Players wear shoes instead of skates.
What follows is a list of some of the places where you can enjoy indoor versions of outdoor sports, if even just for training.
These are not the only places offering indoor activities - particularly for tennis, swimming and basketball - but they are good places to start.
Archery
Wilderness Archery
Location: 4870 Pacific St., Rocklin Information: (916) 630-8700 Features: Lessons and full indoor range. A round of the California indoor championships was held there last weekend. Cost: $5 per visit; bows can be rented
Baseball
Grand Slam USA
Location: 9660 Elk Grove Florin Road, Elk Grove Information: (916) 685-7977 Features: Pitching tunnel rentals, lessons, batting cages Cost: $1.50 a token (18 pitches), $28 for a 30-minute lesson
Ice skating
Iceland Ice-Skating Rink
Location: 1403 Del Paso Blvd., North Sacramento Information: (916) 925-3121 Features: Ice skating and broomball Cost: For groups only: $240 to rent the entire rink for 30 people for two hours
Skatetown Ice Arena
Location: 1009 Orlando Ave., Roseville Information: (916) 783-8550 Features: Public skating, hockey and broomball, field trips Cost: Public skating $10 or less per person, including skate rental; $250 per hour for first 30 players
In-line hockey
Sac Sports Arena
Location: 1960 Railroad Drive, Sacramento Information: (916) 641-0321 Features: In-line hockey, indoor soccer, lacrosse and volleyball Cost: Approximately $100 per player for 12 games
Rock climbing
Granite Arch
Location: 11335 Folsom Blvd., Rancho Cordova Information: (916) 638-4605 Features: Climbing walls, bouldering, equipment rentals Cost: Varies with age, $9-$12 for a day pass without gear rental
Sacramento Pipeworks
Location: 116 N. 16th St., Sacramento Information: (916) 341-0100 Features: Climbing walls, bouldering, weights and cardio gym Cost: Memberships variable; day use: $7 before 3 p.m., $14 after 3 p.m.
Rocknasium
Location: 720 Olive Drive, Davis Information: (530) 757-2902 Features: Wall climbing, bouldering, gear rental Cost: Memberships vary; day use: $12 a day general, $10 students
California Family Fitness
Location: 8569 Bond Road, Elk Grove Information: (916) 685-5555 Features: Climbing walls and gym Cost: Memberships available; day fees $10 general, $5 for ages under 12
REI
Location: 1790 Exposition Parkway, Sacramento Information: (916) 924-8900 Features: Climbing wall in the store Cost: Free; available Saturdays 10 a.m.-1 p.m., Tuesdays 6:30-8:30 p.m.; informal instruction and tips provided (not lessons)
Scuba diving
Dolphin Scuba Diving Center
Location: 1530 El Camino Ave., Sacramento Information: (916) 929-8188 Features: Scuba diving school up to instructor certification; dive club; other water and travel programs Cost: Varies; entry-level classes as low as $99
Sport Chalet
Location: 2401 Butano Drive, Sacramento Information: (916) 977-1730 Features: Diving pool for lessons Cost: Varies
Skiing
SnoZone Ski and Snowboard School
Location: Private residence Information: (916) 736-0432 or e-mail incoming@ endlesslope.com Features: Endless Slope ski simulator for ski and snowboard lessons at all levels Cost: Single one-on-one lessons $65; packages available
Soccer
Off the Wall Indoor Soccer
Location: 5 Wayne Court, Sacramento Information: (916) 383-4200 Features: Youth and adult soccer leagues Cost: $100 per hour for up to 20 players; $5 each additional player
The Bee's David Barton can be reached at (916) 321-1075 or dbarton@sacbee.com