Back to Articles
Article ES10 Skiing innovator shares his mastery with students
Personal Best: Skiing innovator shares his mastery with students
By David Liepman
Special to The Examiner 2/15/09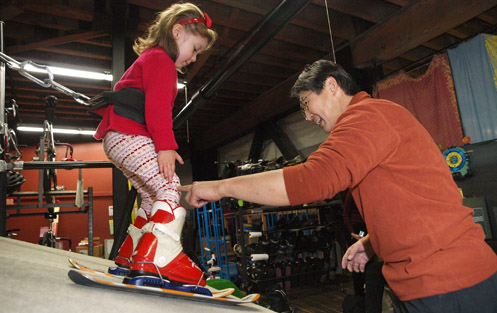 A helpful pointer: Sam Morishima describes proper technique on the slopes to Emma Chongo, a 3-year-old student.
SAN FRANCISCO – On winter weekends, in a corner of the Sports Basement store on Bryant Street in San Francisco, a gifted teacher and his revolving carpet transports students to the snowy mountain tops.
From humble beginnings as the oldest of five children working with his parents in the strawberry fields of Watsonville, Sam Morishima would coax his fellow farmworkers to the ski slopes of the Sierras on weekends.
After being awarded an academic scholarship to Santa Clara University, the burgeoning scientist continued his enterprising ways to satisfy his passion to ski, escorting groups to the slopes in exchange for free lessons.
Morishima followed up his time at Santa Clara with a successful career working for a variety of noted companies in biotechnology, but he never lost the ski bug. Fifteen years ago, at age 40, Morishima first experienced the revolving-carpet ski deck, which was originally developed by the U.S. Military for tactical training.
The scientist Morishima, with the help of his engineer cousin, developed his own simulator, branded it the SnoZone Endless Slope, and became a full-time instructor.
More than a thousand students later, Morishima maintains his love for teaching and his devotion to his students.
"Each one has been a joy," Morishima said. "I have improved in my teaching after all of these years, because my students teach me. Instilling that passion in my students is a very important part of teaching."
One of those students was a chimpanzee. Morishima was contracted by Disney to teach Louie how to snowboard for the film "MXP: Most Extreme Primate."
Training Louie posed a host of challenges for his patient instructor, who was also faced with a tight filming schedule. Together they overcame Louie's disdain for the noise of the machine. Then, they dealt with Louie's feelings of confinement in his boots, by creating the first slip-in snowboard boots. The slopes presented yet another challenge; chimpanzees are not accustomed to the cold.
"Whenever he finished the run, we would take him to the warming hut," Morishima said.
Finally, it all worked.
"He loved to jump, to do big air," Morishima said. He looked like Michael Jordan hanging in the air. To do that you have to enjoy it."
Morishima's human clients are just as satisfied. Anthony Sandberg hadn't skied for 35 years.
After spending two years in a wheelchair with a crushed leg, one of his goals was to return to the slopes, which he accomplished after 10 lessons on the SnoZone.
"Sam is just magic," Sandberg said. "Sam is a master of constant positive feedback. What comes through is the enthusiasm."
The Chongo family are also happy customers, particularly 3-year-old Emma.
When asked to choose between skiing on the SnoZone or actual snow, Emma responded, "The carpet is more fun."
According to her parents, Charles and Simona, techniques Morishima employs, such as playing catch and shooting Nerf darts, while training Emma on the ski deck may have influenced the young skier's response.

Cool Places to Shop on the Eastern Waterfront
Endless Slope
By appointment only

Endless slope is Sam Morishima's school of extreme sports for everyday people and uh…primates. Learn to ski, snowboard, or surf on Sam's indoor carpeted conveyer belt. For the absolutely inept or those that are curious to the extreme, Sam can train anyone, and I mean ANYONE. In fact, you have to see it for yourself, but he trained a chimpanzee to snowboard for the Disney movie MXP. That's Most Xtreme Primate, for those of you without kids. Yes, the little monkey learned to surf carpet before hitting the slopes for the camera. Now that has to be the end-all testimonial for any instructor. A single class is 30 minutes for $85. Price breaks are given for three or more classes. Instruction is one-on-one, informative and tailored to your skill level, whether it be novice or expert. Stick a gift certificate for a class in a stocking for those with two left feet.
"Article was when I had a school in San Francisco on the Embarcadero on the Wharf. Yes there are times I miss that beautiful location on the water but since I live in Sacramento I do not miss the commute drive."
Back to Articles