Article GE2
A Guide to picking a Ski or Snowboard at a Swap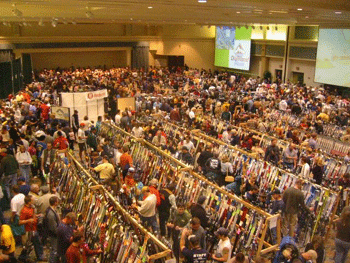 Here is a link for ski swaps and events that are happening in Northern California:
http://www.skibac.org/SkiShowsSwaps.htm
Ski and snowboard swaps can be a wonderful place to get a great deal especially when retailers offer last year models at a bargain, people who love to buy the latest equipment unload their good slightly used equipment and people who thought they might get into the sport decide to sell their equipment. However the swap can be a bit overwhelming with endless rows with racks of used skis and boards.
Here are some general considerations in making your choice.:
Doing some research before you go, on boards and ski types and which ones match your ability, type of skiing and preference of terrain (groomed, powder, park, moguls, etc.) can help narrow down your search. Familiarize with the brands of skis or snowboards that exists can provide some guidance. Internet searches for "skis" or "snowboards" with "ability" and type of terrain can help narrow down choices. Early in the season ski and snowboard magazine issues usually give reviews on the latest and greatest equipment but may compare the same models to previous years. Last but not least walking into your local ski and snowboard shops and asking questions can be very helpful if you can talk to a knowledgeable person.
Get to the swap as early as possible and hold onto whatever you're certain of buying.
If you have boots bring them to the swap. You can check to make sure that the bindings with their limited range of adjustment is able to fit your boot otherwise re-setting bindings or needing new ones can add cost as well as increase the chance of damaging the equipment.
You can usually spot most problems with a good visual inspection and flexing the board or skis.
As a general rule do not buy any equipment older than 5 years. Technology changes and designs change so much that anything older than 5 years is becoming outdated.
Look at the basic wear and care of the equipment.
Avoid boards or skis that have the following issues:
Metal edges that are bent or missing
Sides with torn or chunks missing. Its a good chance that moisture has entered and will further weaken the board.
Has the edges been repaired? If you notice that a section of the metal edge is not continuous with the rest of the metal edge it may represent that the section had been torn and the metal was replace. If the repair was a good one with little or no gaps it maybe useable but it is a weak spot that may tear out again especially if it encounters a rock or other hard or snagging object.
When you bend and flex the ski or board place your ears near the bottom of the board and listen for crackles. If you hear crackling coming from the base of the board it means that the board bottom is dry and brittle due to lack of care and poor storage.
Rusty edges is a good give away that the equipment was not cared for.
If light rust see if the edges are pitted. Deep pitted edges means you need to take down the edges a bit. Does the rust wipe away easily is a ok sign.
Check to see if the edges have enough width for further tuning. Compare the edges to other skis or snowboards to see if they have been tuned so often that there is no further tuning possible.
Check the bottom of the ski base to see if the base is dry. You can see if the base has a gray or whitish dry look to it then the bases have not been waxed much and is most likely oxidized meaning the base is prematurely old and will not take on new wax very well. This will compromise the glide and therefore the ease of riding as well as your safety. Also it means the previous owner does take very good care of their equipment.
Pull on the bindings to make sure no loose screws or any wiggle.
Most surface scratches on the top of the ski or board are mostly cosmetic and if you can live with it, it is not usually a problem. However, if the scratch exposes any under layers it is bad sign that water and freeze can penetrate the ski or board and cause delaminating.
Have someone you can trust and has repair knowledge to provide you with another opinion if the bottom of the board or ski is scratched or gouged. There is a chance it maybe removed by a base conditioning machine at a ski and board shop. Gouges will need to be p-texed and repair work done.
In addition for Skis:
· Skis have gone through some major changes. The newer the skis the better.
· Skis with existing bindings on them, need to be inspected and never ski on used bindings without having a proper release check performed at a ski shop. A general rule is do not ski on bindings more than five years old, or that look like they have seen better times.
· Purchase your boots first. This way you can see if the ski binding (that is already mounted on it) can fit your boot. Remember if the boot doesn't fit the skis you'll have to take the skis to a shop to have the bindings remounted. Remounting may not be possible if the new holes are too close to the existing holes or serious amount of epoxy with or without coils will be required.
· Make sure the skis still have a good camber to them. Check by laying both skis on a flat surface. The middle of the skis should rise from the surface to an equal height, usually from one to two inches up. The camber is the bend of the ski that provides the spring in your turn. Some skis built in 2009 and on have little or no camber to the skis so you will need to know if the skis originally started with a camber or not.
· Put the tail of the skis on the floor, and hold the tip. Flex the ski by pushing in the middle. Check whether both skis feel similar and also listen for any crackling sounds.
Crackling sounds can indicate dry oxidized bases. Avoid crackling skis like the plague.
When checking out a used snowboard or ski boot, pullout the inner liners and make sure the liners are not worn or cut. Make sure that it has the original foot pad. Some people replace the foot pad with a custom one and it may not work for you. Some boots have been modified by pushing out sections to accommodate users feet.
Make sure you wear the boot before you buy. It has to fit perfect because it is already worn and broken in.
My advice with boots is if the used boot is not pristine, was not worn more than 16 hours, not modified in any way and it fit wonderfully on me I wouldn't even consider it. A boot is the most personal piece of riding equipment and has to conform to your pair of feet, ankles and lower leg.
For snowboarders some bindings require specific type of boots. If purchasing a boot ask what type of bindings they are made for. If buying a board with already attached bindings ask what type of boots will work with it. Also, fit your boot into the binding and make sure the boot can be securely attached. Check the mechanism of the binding for smooth boot attachment and removal. Remember when you are on the snow everything has to work smoothly and easily in the cold.
Also, snowboards have screw patterns that require a matching binding plate. So make sure that your binding has the right binding plate pattern to match your board. Earlier boards had several different screw patterns. Typically now the boards come in one of two types of screw patterns. A standard parallel 2 line pattern or the Burton board pattern. If you have a Burton board make sure the binding you buy fits a Burton screw pattern. Try to buy the bindings at the same time as the board and make sure that the bindings mount properly to the board. Also make sure your boots fit and can be strapped in the binding securely. Do all these checks to before you buy. They will show if there is any problem with the combination as well as checking to make sure the binding parts all work smoothly and securely.