Article ES8

Snow Teacher Without Snow

Working in his garage, he shows skiers how to beat the slopes

Ma r c h • 2 0 0 6 Inside the City (Sacramento) M E E T Y O U R N E I G H B O R S

By Jocelyn Isidro

Sam Morishima has the taut grace of an athlete. He's all lithe motions and fluidity as he bends to fit ski boots to a 6-yearold girl's feet and gently gets her up on skis for the first time. Then, he shows her how to climb up the hill, which in this case is in his garage in Curtis Park.

The narrow driveway next to Morishima's pleasant-looking, ivy covered Tudor is bustling with people lined up in ski boots, jackets and hats waiting for their turn on the machine. You might think you've wandered through a magical Narnia-like door into winter.

But his students swear by his artificial hill—a device he calls the SnoZone and that is also known as a revolving ski deck or ski simulator. A strange, whirring, cranking noise emanates from the contraption, which looks something like gymnastics uneven bars growing out of a sloping rug. Two huge yellow rollers take plush gray carpet around in a big loop like a conveyer belt.

The carpet is tilted at an 18 percent angle, equivalent to an advanced intermediate slope or even at times black diamond conditions, says Morishima. But don't judge the SnoZone by its looks. "Moseley trained for six months for his gold" on a ski simulator, Morishima says, speaking of 1998 Olympic freestyler medalist Johnny Moseley.

Long horizontal bars are in front and back of the skier. The front bar is to hold on to. The skier is clipped

into a safety harness attached to the rear bar so he or she can turn, jump and otherwise work on improving

techniques without fear of falling.

Shirley Sassman, a 60-ish resident of Sacramento, is on her second lesson. A self-described intermediate skier, she says, "I can feel edging this way; I can concentrate. The pace is fast. It tests your skill." Morishima is darting back and forth, manipulating her ski positions, running the deck and pointing out moves.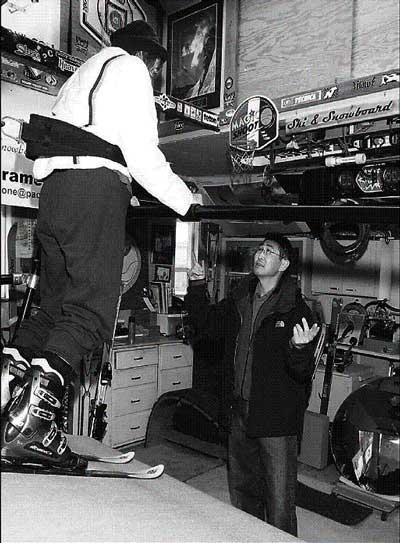 Sam Morishima gives student Shirley Sassman some helpful hints during a class

He moves his arms and body to demonstrate form, digs his toe into the floor, points, gestures and lies prone on the ski deck in an endearing nonstop tutorial aimed directly at his student. He's not only a teacher but showman and salesman as well as he extols the benefits of ski deck training.

"When you get tired, you develop bad habits," he says. "On the SnoZone, you can stop anytime. On the

mountain, you want to get your money's worth. In the half-hour here, you're going to do as many turns as in a day on snow."

The SnoZone is a laboratory, he adds. "You get to focus on your work: weight balance, edges, turns."

Alisa Reum of Elk Grove, her husband and their two children just started taking lessons on the SnoZone. "He has a way of talking to kids at a level they understand," says Reum. "I could actually jump on it," laughs 7-year-old Adaira, "but my brother couldn't." Her brother, 11-year-old Devin, just shrugs.

The pleasant, soft spoken Morishima seems an unlikely candidate for this more physical than intellectual endeavor, although his athleticism is clear.

A graduate of Santa Clara University with a degree in biochemistry and microbiology, he began his career as a chemist, then worked for years in the biotechnology industry, performing international sales, marketing and business development for companies all over California, Europe, Latin America, Asia and the Pacific Rim.

His first love was always skiing, however. Morishima began skiing as a youngster and was a freestyler in

college.

"Not professionally—just for fun," he says. "I did back flips, things like that on skis." He was good enough to be certified as a PSIA, a Professional Ski Instructor of America.

After decades of globetrotting for his demanding career, Morishima made a radical change. One day as he

was driving through San Diego, he saw a ski deck lesson in a parking lot. He was captivated by the concept of skiing without snow.

"That's the scientist in me. I wanted to find out about it and research it," says Morishima.

He quit his biotech job to become a ski deck instructor, eventually branching out with his own school. Morishima also runs a school in San Francisco, and is planning to open several more.

Morishima's background in molecular chemistry comes to the forefront when he starts waxing rhapsodic about snow. "Snow is amazing. Ice and water are amazing. Trying to reproduce something that allows slope and grip . . . " He shakes his head at the difficulty. Yet it's been done with the revolving snow deck.

The skis Morishima uses are shorter than usual, and coated with a slippery substance called Nylatron.

That, and a high-grade synthetic carpet, allows slipping that mimics an intermediate or even advanced ski

slope. The high pile allows for grip. To make the surface even slicker, he can spray food-grade silicon on the carpet.

But what about moguls, you might ask? Morishima can do moguls, changing to carpet with ridges. "But," he quickly adds, "I can teach people how to ski moguls just with the smooth surface. It's all about the fundamentals.

"There's a sweet spot on the ski, right underneath the ball of your foot. Most people don't know that. Even if they do, they can't feel it until they're up here."

Now, Morishima's daughter Sondra, a 16-year-old McClatchy student with braces on her teeth, is

demonstrating snowboarding. She's an elegant, graceful form as she carves arcs in the carpet, a study in

liquid movement.

Morishima teaches skiing, snowboarding and even surfing on the SnoZone. But the trends in snow

sports are changing. "Two years ago, I had mostly snowboarders. Now I have mostly skiers," he says.

Morishima, his wife and daughter have lived in Curtis Park for 14 years.

He's a caring and thoughtful father. "She's been skiing since she was 2 years old," he says with pride. "I'm training her to be 30. When she's having a midlife crisis, work, she'll be able to go to the mountain and forget."

Morishima has been teaching skiing since he was in high school, and on the ski deck for about six years.

His students applaud his focused, gentle teaching style.

"Sam is so patient. He's a wonderful instructor—he's so positive and encouraging," says Anita Murphy of Wilton.

In fact, Morishima is so good he even taught a chimpanzee named Louie to snowboard for the movie

MXP: Most Extreme Primate, about a snow-shredding chimp. Louie learned so well on the SnoZone that a less advanced chimp had to be employed in the scenes where he was supposed to be a beginner.

The price for lessons on the endless slope is fairly steep: $65 for a half hour lesson. But discounts start to

pile up for multiple lessons. And as Morishima points out, "Scheduled sessions on a regular basis provide

skill development progression that infrequent trips to the mountains can't match."

http://www.insidepublications.com/pdf_stories/06-03/MYN%20306-Sam%20Morishima.pdf